Back to series
Behold the Lamb of God
No. 22 – Chorus
Music courtesy of The Falls Church Anglican Choir, Falls Church, Virginia, under the musical direction of Simon Dixon. Audio mastering by Andrew Schooley. From Messiah by George Frideric Handel (1742)
Listen to the full playlist for Handel's Messiah.
"The next day John seeth Jesus coming unto him, and saith, Behold the Lamb of God, which taketh away the sin of the world."
– John 1:29
Advent realigns our hearts toward wonder. We marvel anew at the climactic moment of history when God took on flesh and dwelt amongst us. But secular sirens draw our attention elsewhere through images of snowfalls and jingle bells.
God has blessed Handel's Messiah as an antidote to help with Advent's realignment process. Verses, phrases, and words from Scripture receive treatments that allow our minds and hearts (and voices!) to meditate on the ultimate as we live amidst the mundane.
One meditation-worthy phrase in this drama is John the Baptist's announcement, "Behold the Lamb of God, which taketh away the sin of the world." God inspired John similarly to the prophets. How else could John know such a remarkable truth? A son of a carpenter from Nazareth, born in obscure Bethlehem, would soon die a sacrificial death. And God gave John the image of a lamb to awaken us to that wonder.
A few other lambs may have foreshadowed this "Lamb of God." Centuries before, a lamb was promised to Abraham after he offered up his son (see Gen. 22:8). Other lambs' blood was put on doorposts at the time of the Exodus so that God would "pass over" those houses (see Exod. 12). And Isaiah predicted one who would be led to the slaughter "like a lamb" (see Isa. 53:7). All these are incomplete types of the Lamb who would come and take away the sin of the world. Only after we read all of Scripture and see "the lamb who was slain" (see Rev. 5:12) do we encounter all that the Christmas story has to tell.
Prayer
Lamb of God, tune our hearts toward wonder this Advent so we may
truly sing in celebration, "Joy to the world. The Lord is come. Let earth receive her king." Amen.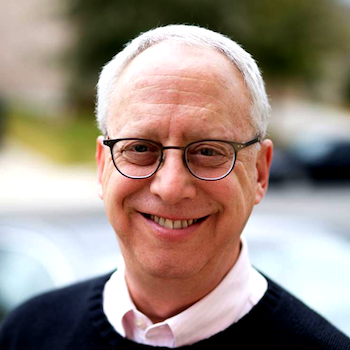 Randy Newman
Randy Newman is the Senior Fellow for Apologetics and Evangelism at the C.S. Lewis Institute. He has taught at several evangelical seminaries. After serving for over 30 years with Campus Crusade for Christ, he established Connection Points, a ministry to help Christians engage people's hearts the way Jesus did. He has written six books, Questioning Evangelism, Corner Conversations, Bringing the Gospel Home, Engaging with Jewish People, Unlikely Converts: Improbable Stories of Faith and What They Teach Us About Evangelism and his most recent, Mere Evangelism. Randy has also written numerous articles about evangelism and other ways our lives intertwine with God's creation. He earned his MDiv and PhD in Intercultural Studies from Trinity International University.